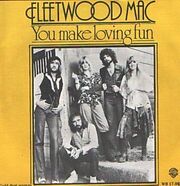 "
You Make Loving Fun
" is a song written by
Christine McVie
 of the British-American band
Fleetwood Mac
. McVie also sang the lead vocal for this song, and she did so for many years thereafter. "You Make Loving Fun" was separately published as the fourth and final 45 rpm single from the band's album
Rumours
 in 1977. This song was the fourth top ten hit from
Rumours
, and it peaked at number nine on the
Billboard
Pop Singles Chart.
"You Make Loving Fun" has also been included in many compilation albums by Fleetwood Mac. The song was inspired by an affair McVie had with the band's lighting director, Curry Grant.
"You Make Loving Fun" was a concert staple for Fleetwood Mac and was played during every tour involving Christine McVie from 1976 until 1997, a year before McVie's departure from the band and retirement from touring.
Cyndi Lauper's cover
Edit
"You Make Loving Fun" was the first song published by Cyndi Lauper who was commissioned in 1977 to record several songs that had been written by other artists.
12" vinyl track listing
Edit
Length: 13 min 8 sec
| Track | Title | Length |
| --- | --- | --- |
| 01 | "You Make Loving Fun" (single vocal version) | 3:27 |
| 02 | "You Make Loving Fun" (extended dance vocal version) | 6:14 |
| 03 | "You Make Loving Fun" (instrumental version) | 3:27 |
3" CD track listing
Edit
Length: 9 min 41 sec
| Track | Title | Length |
| --- | --- | --- |
| 01 | "You Make Loving Fun" (single vocal version) | 3:27 |
| 02 | "You Make Loving Fun" (extended dance vocal version) | 6:14 |
External links
Edit